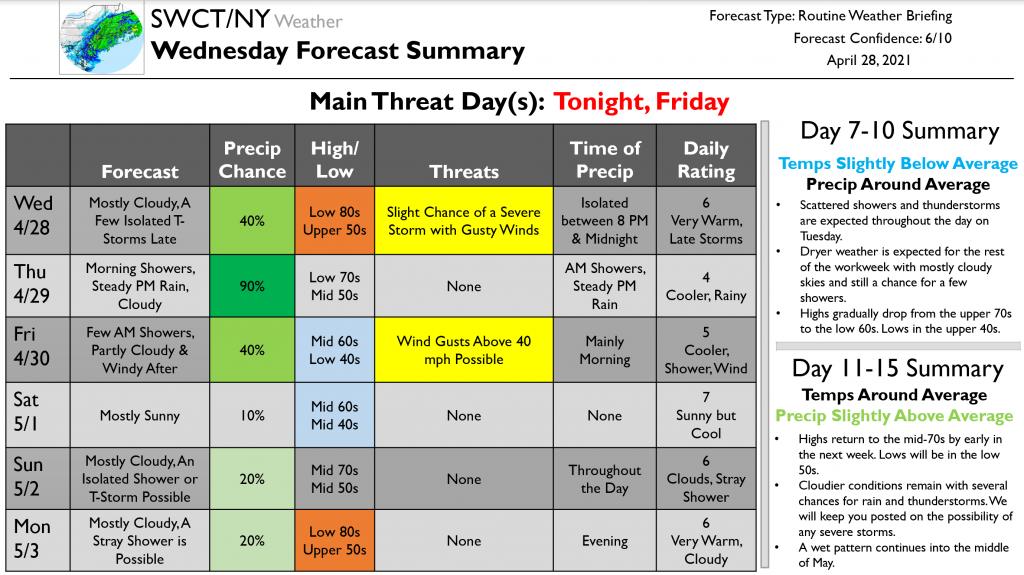 IF YOU WOULD LIKE TO RECEIVE REGULAR UPDATES LIKE THIS ONE, SIGN UP FOR A PREMIUM SUBSCRIPTION!
Good morning,
I hope everybody is having a good week and that you are excited for the warmth on the way for the afternoon. This forecast has a lot of little moving pieces which I will do my best to break down…
To start, as you might be able to tell, we have a warm front moving through today which will bring our high temperatures into the low 80s by the afternoon. Along with this, we will see an upper-level trough swing through tonight, bringing with it a few isolated thunderstorms. This trough has quite an organized line of numerous storms far out to our west right now, but by the time it gets here, things will be quite scattered. We expected to see just a few isolated storms between 8 PM and midnight tonight. Some parts of our region will likely be missed completely. The storms that do occur have a low likelihood of being severe. Main risks include heavy rain, lightning, and a slight chance of gusty winds. Lows tonight will be in the upper 50s.
Highs will drop to the low 70s tomorrow. The day will start with some morning showers. By the afternoon, a steady rain will evolve and continue through the evening and overnight hours into early Friday morning. Once the rain concludes on Friday, partly cloudy skies will remain, and windy conditions will take over as highs drop further to the mid-60s. Lows will drop to the low 40s. Wind gusts over 40 mph are possible during the early evening.
Mostly sunny skies take over to start the weekend on Saturday as highs remain cool in the mid-60s. Mostly cloudy skies will return on Sunday with an isolated shower or thunderstorm possible throughout the day. Highs rise to the mid-70s. Similar weather is expected for the start of the workweek on Monday, partly cloudy with a chance of a shower during the evening, as highs rise even further to the low 80s. Scattered showers and thunderstorms are expected throughout the day on Tuesday. Dryer weather is expected for the rest of the workweek with mostly cloudy skies and still a chance for a few showers. Highs gradually drop from the upper 70s to the low 60s. Lows in the upper 40s. Highs return to the mid-70s by early in the next week. Lows will be in the low 50s. Cloudier conditions remain with several chances for rain and thunderstorms. We will keep you posted on the possibility of any severe storms. A wet pattern continues into the middle of May.
That is all for today's update. We will make use of text alerts and push notifications as necessary tonight with the storms. I would like to end today's update with a link to a document I created. This document is a tornado reaction plan written for my hometown of Somers, NY that I wrote as part of my graduate coursework in Emergency Management. We do not get many tornadoes in the region, but with an increasing frequency over the year, it is important to be prepared. Although this was written for Somers, it can be generalized to many towns in our region. Feel free to reach out with questions!
Kind regards,
Zach