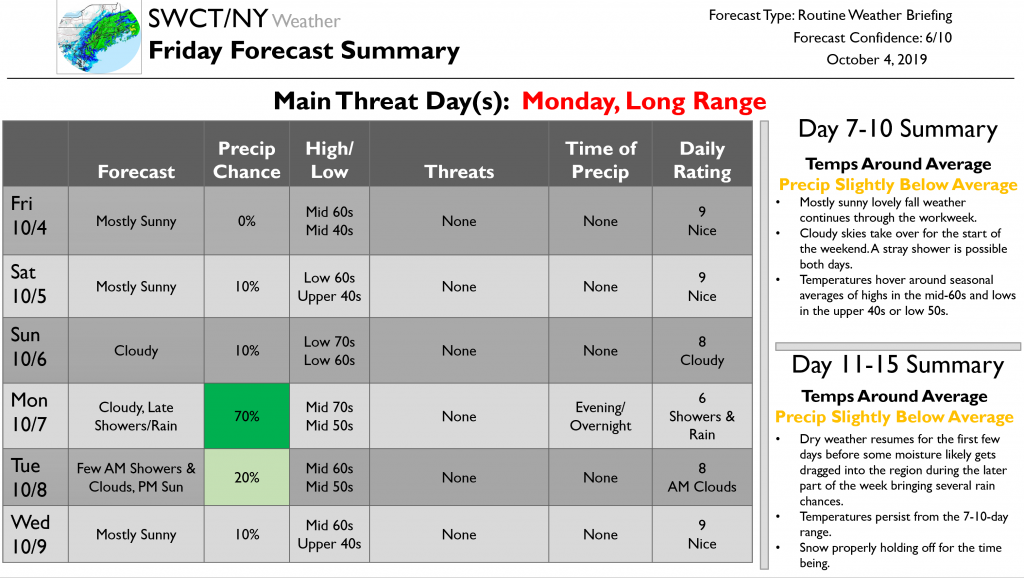 Good afternoon,
Now to today's forecast which doesn't have many notable weather events in it…for the remainder of today we will see mostly sunny skies. Highs will be in the mid-60s and lows in the mid-40s. Tomorrow should be another lovely fall day with very similar weather to today. Clouds then fill the sky on Sunday which remains try and brings slightly warmer highs in the low 70s.
We start the next workweek on Monday with cloudy skies along with late showers and rain starting in the evening hours and continuing overnight as a front passes through. Rain could be heavy at times. A few showers could continue into early Tuesday morning before clouds yield to sun by the afternoon. Highs on Monday will be in the mid-70s and lows in the mid-50s. Highs drop to the mid-60s on Tuesday. Sunny skies continue into Wednesday and into the first few days of the 7-10-day period. It should be another great set of autumn days. Eventually, clouds take over near the weekend with a stray shower possible both days. Temperatures hover around seasonal averages of highs in the mid-60s and lows in the upper 40s or low 50s.
Dry weather resumes for the first few days of the 11-15-day period before some moisture likely gets dragged into the region during the latter part of the week bringing several rain chances. Temperatures persist from the 7-10-day range. No snow on the horizon.
That's it for today's update. Enjoy the weekend!