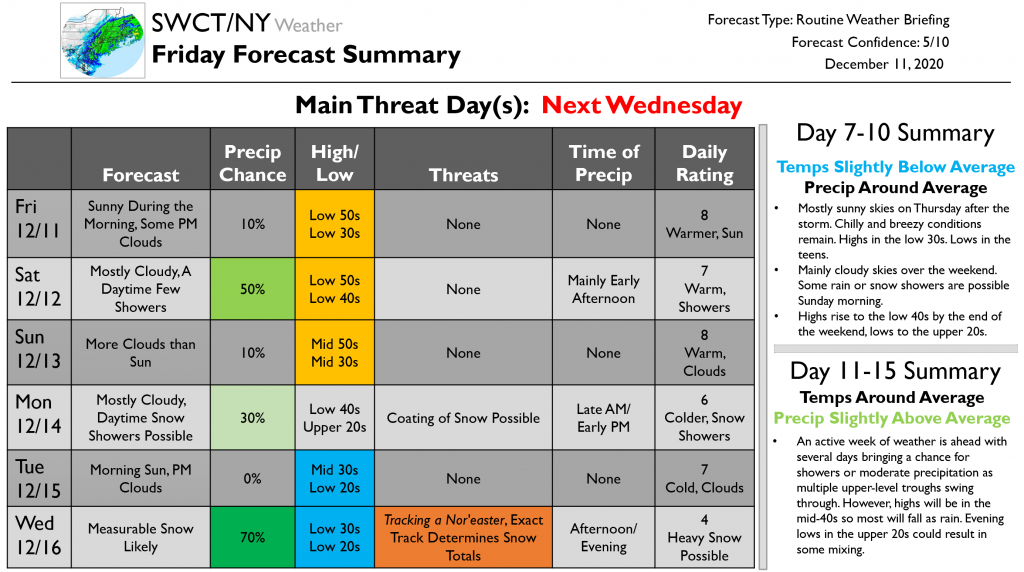 Sign up for a premium subscription to receive forecasts like this several times per week via email, along with special storm reports, and real-time weather text alerts.
Good morning,
Happy Friday and Happy Hanukkah to those celebrating. This update will focus on our first chance for a snowstorm this season, next Wednesday. I am sure you are all eager for the details so let's get started…
Sunny skies will continue through the morning today. Clouds arrive during the afternoon hours. Highs will be in the low 50s so try to get out and enjoy the fresh air a bit. Warm temperatures hang around through the weekend. Tomorrow will bring mostly cloudy skies and a few daytime showers, though. Showers will occur mainly during the early afternoon. More clouds than sun on Sunday as highs rise further to the mid-50s. Lows will be in the mid-30s. Mostly cloudy skies continue into the start of the workweek on Monday as highs drop to the low 40s. As this cold front passes, we may see some snow showers during the late morning and early afternoon hours. A coating of snow possible. Morning sunshine then on Tuesday before clouds arrive during the afternoon. Highs drop further to the mid-30s and lows to the low 20s.
Wednesday starts out cloudy as a nor'easter tracks towards our region. As of now, it seems likely that a moderate snow will begin during the early afternoon hours and continue through much of the evening, ending before midnight. The exact track of this storm is crucial to the snow totals. Model runs have been swinging between bringing the storm closer to shore and out to sea. For example, yesterday the GFS had the storm closer to shore for a total of 23 inches in our region; today it put it out to sea for a total of 4 inches. The Euro has remained a bit more constant with totals around 8-12 inches. The GFS also has a less pronounced upper-level trough than does the ECMWF. I think that that the Euro brings the storm a bit too far inland, while the GFS keeps it a bit too far off the coast. As of right now, I am expecting something in the middle of these two scenarios, say 6-10 inches. We will want to watch for gusty winds as well. Take those snow totals with a major grain of salt, though, as we are still many days away and we will continue to see changes in the track. Even a small change results in major shifts in snow totals. We will continue to keep you posted as we get closer. The one thing I will say now for us snow lovers…it seems like we have a good shot at getting measurable snow mid-next week.
After the storm, mostly sunny skies are expected on Thursday. Chilly and breezy conditions remain. Highs in the low 30s. Lows in the teens. Mainly cloudy skies over the weekend. Some rain or snow showers are possible Sunday morning. Highs rise to the low 40s by the end of the weekend, lows to the upper 20s. An active week of weather is ahead with several days bringing a chance for showers or moderate precipitation as multiple upper-level troughs swing through. However, highs will be in the mid-40s so most will fall as rain. Evening lows in the upper 20s could result in some mixing.
That is all for this update. We will continue to keep you posted as we get closer to Wednesday. As always, feel free to reach out with questions!
Have a nice weekend!
-Zach