Most business pricing and services are negotiable.
Standard business pricing packages for various businesses typically begin at $500/year for public and private institutions (libraries, school districts, plowing companies, sports managers etc.).  These packages come both with any number of log-ins necessary for the business to all Premium content AND customized content tailored specifically to the weather needs of the specific institution.
Interested parties such as realtors, concert venues, sports teams/managers, investors, and others may contact Jacob at jacob@swctweather.com to discuss potential pricing plans and longer term contracts.
Standard Business Storm Consulting generally features 1 page update 3 days, 2 days, and 24-36 hours before storms detailing specific storm impacts and possible storm scenarios for any specific region (sample seen below).  They can be tailored to advise school/businesses/libraries to open or close, or be broader for entire towns advising when travel is preferred, or when snow plows should operate.  These come alongside all other Premium content.  Any business consulting deal, whether as a long-term contract or as a one-off event deal, comes with consistent contact with Chief Weather Analyst Jacob Meisel.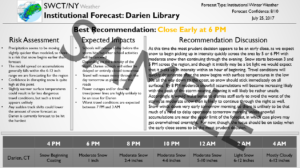 Similarly, Weekly Business Storm Consulting is for businesses and institutions that require weekly weather information beyond just updates for dangerous weather.  This package includes a weekly weather report published every Sunday night detailing the weather across the specific area for the next 7 days, followed by an update Wednesday or Thursday as late-week forecasts become more accurate and clear.  This package similarly also includes all services within the Institutional Storm Consulting package.  Please email for more information about package pricing.
An option to include in any Business Package is a direct chat feature, allowing clients to directly talk with our Chief Analyst during major weather events and ask questions about the going forecast and what impacts are likely to be to their specific operations.  Pricing for this option is negotiated in advance when purchasing a Business Package.
Hybrid packages and individual event deals are always available, and our goal is to accommodate all with whatever they would find most useful.  Simply email jacob@swctweather.com with your request and we will do our best to ensure it is fulfilled to the best of our ability.